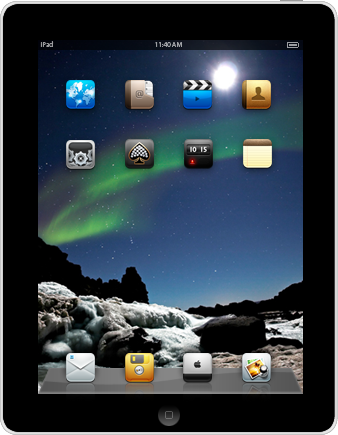 Changing the background in your (or someone else's)  Ipad is very easy. In Ipad's home screen touch "Settings" icon. List of different settings will appear on the right side of the screen. Now look for "Brightness & Wallpaper" on the list. Touch that and you will see "Wallpaper" box that has two pictures of iPad. Touch the box and you get list of your image folders. There is one called "Wallpapers" that has all the default backgrounds that came with iPad and another one called "Saved Photos" that one has all your saved photos. Touch the "Saved Photos" if you want to set a background that you have downloaded from internet.
When you find a image you like, tap on the image and you'll get preview of the chosen picture and three options in the top of the screen. You can put the image as Home Screen or Lock Screen background or both. Lock Screen is kinda like a screen saver and it will show up when Ipad "locks" after inactivity. Home Screen is, well, home screen.
Just choose "Set Lock Screen" if you want to set it as Lock Screen background, choose "Set Home Screen" if you want to set is as Home Screen background and
"Set Both" if you want to use same background for both or if you don't like the picture just press "Cancel" and choose another one.